Physical Therapists, World Travellers / Adventurers
"What is the point in seeing the world from your seat on the bus if you can't get outside and enjoy it? We work hard, and play harder, and as physiotherapists, we know the benefits of keeping your body in check. We love to travel the world and go on epic adventures in the great outdoors."
Who are we and how we got started
We started our travel/adventure/fitness blog in early 2017 where we have evolved from 'just another travel blog' to 'a travel blog with an emphasis on adventure and running'. We love to run and a lot of our travels have been for various races around the world. To date, collectively we have been to over 65 countries, and have run over 30 half marathons. We want to bring out the idea that every-day household people can get out there and enjoy the benefits that come with being adventurous.
Three words that best describe each of us
Jeremy:
Handsome
Determined
Driven
Joanna:
Willing
to
try
Why I use Formthotics
We have both used Formthotics throughout various periods of our life. Whether it be returning from injury, walking at work (we can easily complete over 10,000 steps before the end of the workday) or to give us added comfort and support, we use them in all of our shoes we own.
When we think of Formthotics…
We think of the golden ticket to the Willy Wonka marathon!!!
A perfect days goes like this…
Jeremy: Wake up with the sun and have a coffee before donning the shoes and going out for a run. After cooling down, I wouldn't snub at the idea of going to the beach with friends to swim and play ball, then finishing off the day at a pub with a beer and a cider and someone playing some acoustic guitar.
Joanna: I completely agree with the above statement.
Three things on our bucket lists
Jeremy:
We have been lucky enough to travel and adventure a lot
already, but the three things I would love to do are to go to
Antarctica (which is happening in March 2018 – to run a marathon).
run a marathon on each continent.
learn to fly an aeroplane.
Joanna:
Visit Antarctica (and run on it).
have a room in my (currently non-existing) house that is full of tall bookcases and full of books.
inspire someone.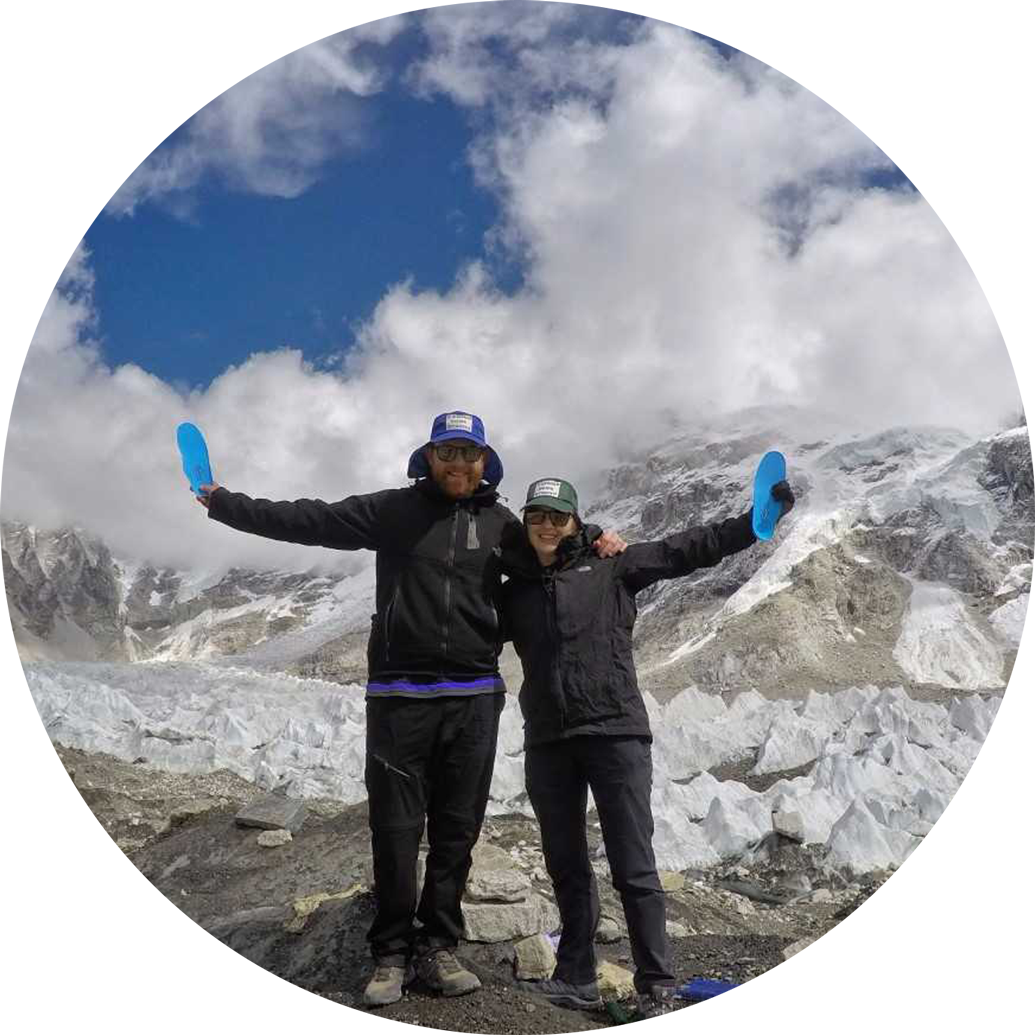 Career Highlights

Jeremy:
Every day is a highlight when you get to help people back up and get back into life.
Working at the Royal Orthopedic Hospital in London in the amputee unit – the resolve of many of my clients was inspiring and I always left work with a new appreciation of life.

Joanna:
In 2011, I volunteered at a hospital on the border of Myanmar (Burma), Thailand. It was there that I realised the true value of physiotherapy after teaching children and adults, who had barely moved in months, how to walk again and realise their own capabilities.