NZ tandem mountain bikers, Public Health Analyst, Nurse and Parents
"We are pioneering tandem mountain bikers, pushing the boundaries of what two people can do on one bike. We'll take on pretty much anything, from DH and Enduro racing to all day back country epics."
Who are we and how we got started
It all started when Rose wanted to ride in the race around Lake Taupo- but she didn't want to ride the full 150Km on her own. So who better person to do half the work? Jackson, boyfriend at that time. Being mountainbikers true at heart, they brought a touring tandem and converted it into a mountainbike tandem. Soon however, they were exceeding it's capabilities. Rose can do a lot to keep the back of the bike in control, but when they started going over jumps which ripped her feet from the pedals and bucked her high in the air, it was time for a new bike.
Not being happy with the mountain bike tandems on the market at the time, Jackson decided to build one himself. Bruce the tandem was created, a full suspension tandem that was capable of cross-country racing, cycle touring and many back country adventures. Jackson and Rose moved to Christchurch in 2011 and found the terrain they enjoyed riding there required a bigger bike. So Jackson got to work again and Trev the tandem was created, a full suspension trail bike with 200mm travel all round.
Jackson has custom designed and built all their tandems from steel.
As parents of two toddlers, Jackson has made seats that enable the kids to join in the fun too.
Three words that best describe us
Enthusiastic
Pioneers
In balance (in more ways than on the bike)
Why we use Formthotics
Rose: I have used Formthotics since my early teens and this has enabled me to have a very active and fulfilling life. After my ankle surgery in 2015, Formthotics have been a crucial part of my recovery.
Jackson: Formthotics help me stay comfortable for longer while standing or walking. I really appreciate them when I am carrying a bike up the hill on my back (see attached pic), or when I've got my bike shoes done up tight. I love the way they distribute the force throughout my whole foot instead of in a few small spots.
When we think of Formthotics…
Rose: being pain free when landing jumps and tackling technical sections on the bike
Jackson: Comfort and efficient power transfer
Formthotics facilitate us to do what we love to do by enhancing comfort and reducing stress and injuries.
A perfect days goes like this…
Saturday morning and the children wake up late and happy, and have fun riding their balance bikes over to their friend's house. Rose and Jackson drive somewhere in the Canterbury foothills and ride, push, and carry the bike to the top of a hill, 1000 metres or so above the plains. After a relaxed lunch in the sunshine, we have an hour of fantastic beech forest decent broken up only by stops to look at the beautiful bush (and let our brakes cool down!).
Three things on our bucket list
Introduce someone else to tandem gravity racing
An epic adventure somewhere?…Maybe overseas?
Take the kids to experience different cultures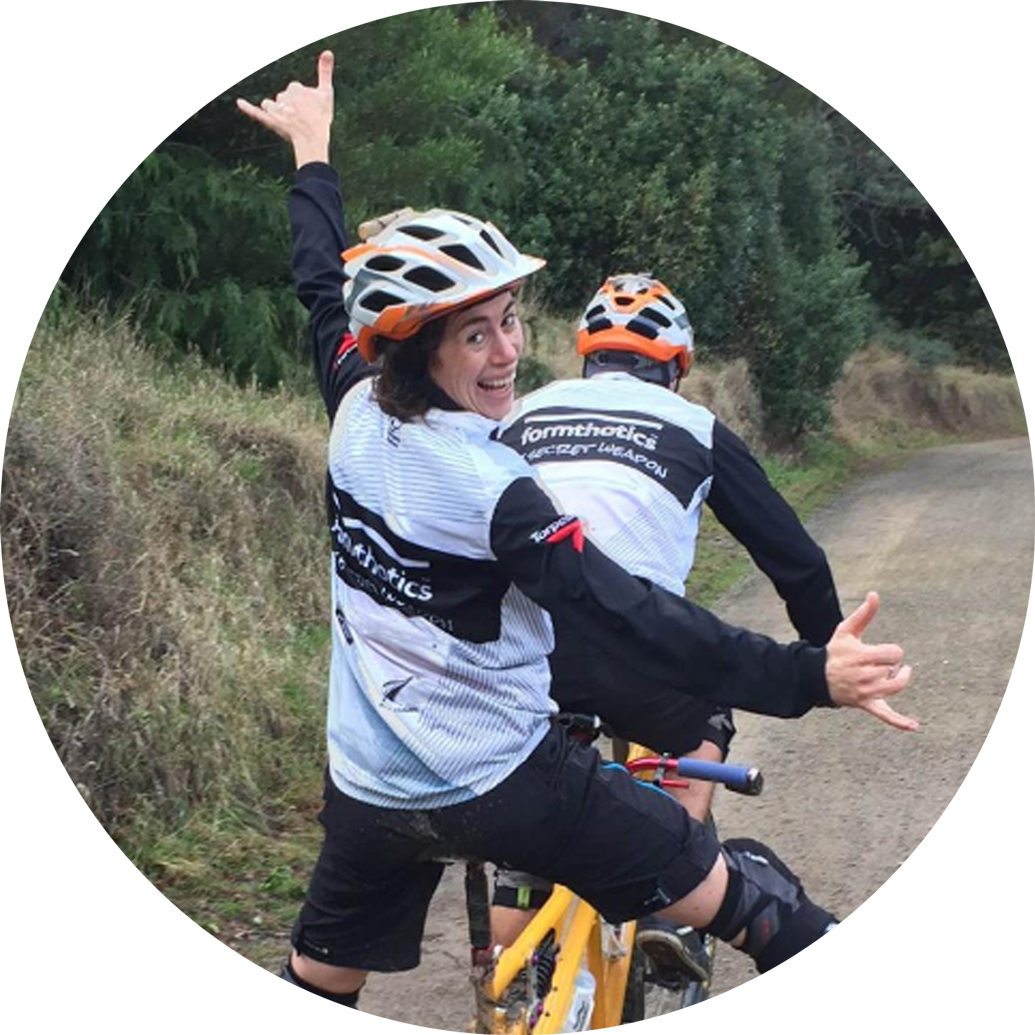 Career Highlights
National Tandem DH Champions
Setting a long-standing (8year) tandem record for the Karapoti Classic MTB race (finally beaten in 2016 by an all-male team).
Being the first tandem most people have ever seen at a DH or Enduro race, and riding faster than many of the doubters.
Pulling through injuries and parenting two toddlers to keep doing what we love to do- pioneering on the tandem