NZ paralympic alpine ski racer Paralympic gold medal winner
"It has been awesome to see and feel the difference Formthotics make!"
Who I am and how I got started
I am a skier and live and breathe snow. I discovered snow sports at six, when the mother of my mums friend who also was born with Spina Bifida, like myself, encouraged me to try skiing. I was already involved in sport at school, especially cricket. I loved skiing straight away but at that age didn't have the independence or skill to be very good. Three years later, I was introduced to snowboarding by a friend who was instructing at Cardrona and found the freedom, independence and (most of all) speed I was looking for. In the winter of 2004 – 05 I committed to skiing after years of snowboarding so I could compete in the Paralympics. From the Torino Paralympics I have been living back-to-back winters and racing on the World Cup circuit alongside the very best athletes in the world and meeting interesting and dedicated people from all over the world.
Three words that best describe me
Professional
Dedicated
Courage
Why I use Formthotics
Having been born with a physical disability with very limited control from my hips/knees down and no feeling in my feet it is very important I find the best support for my feet, knees and hips. And with having no feeling in my feet this becomes very crucial and critical. I walk with Ankle Foot Orthotics otherwise known as "AFO". With the way in which my body is aligned and moves about by using Formthotics whether inside my "AFO" walking or on the snow inside my Skiing "AFO – Ski boots the benefits of Formthotics have been extraordinary in many ways but in simple terms by helping support my feet impacting positively then on my knees and hips in a very positive way which has influenced hugely my ability to stay at the top of my game as a Paralympic Athlete.
When I think of Formthotics…
I think of the great opportunities Formthotics has been able to give my body both now and in the future. Both on snow and off.
A perfect days goes like this…
Every day is a perfect day when I wake up and can train and ski to the best of my ability, pushing both my physical and mental abilities without any aches and pains in my lower legs – which Formthotics has provided.
Three things on my bucket list
Visit every continent
Go watch the Olympic Games
Have a summer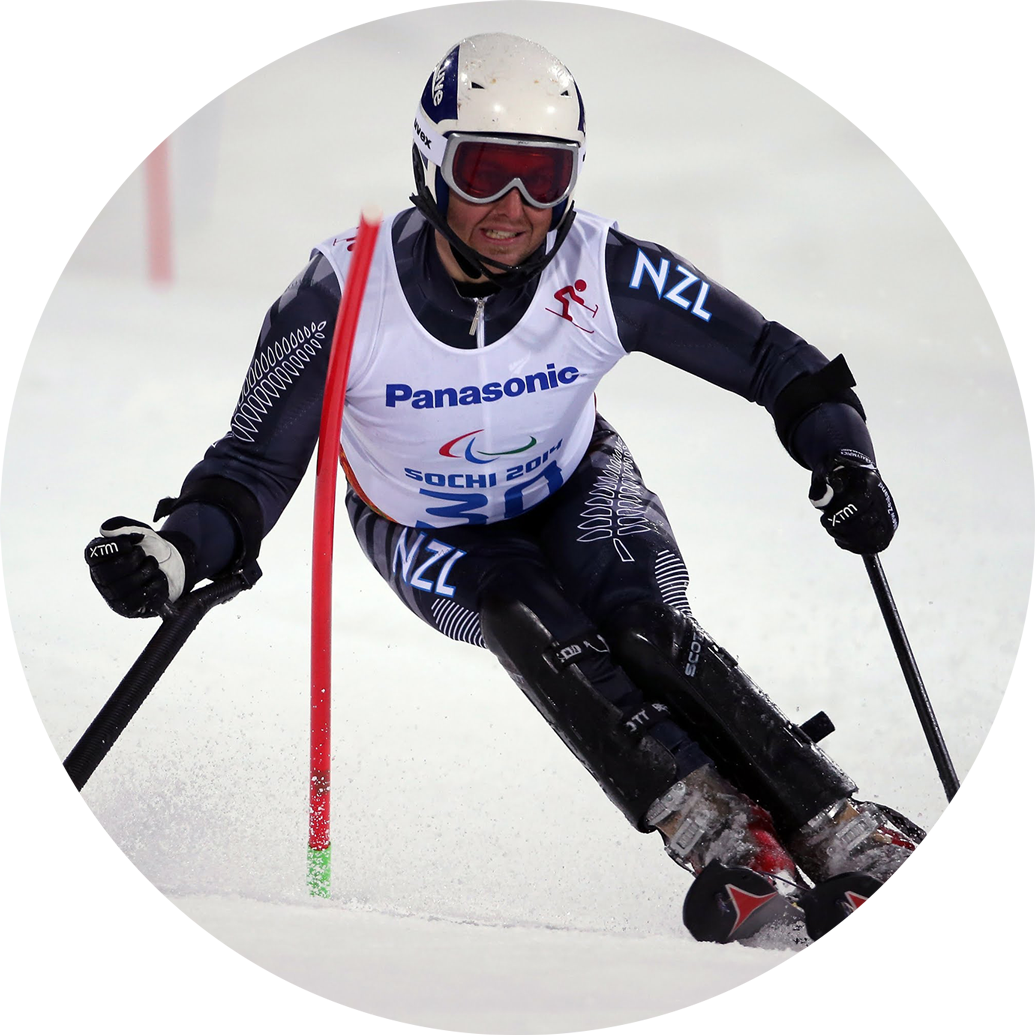 Career Highlights
2010 Winter Paralympic Gold medalist
4 time New Zealand Snow Sports Athlete Of The Year
2009 World championship Silver medal and 2013 World Championship Bronze Medal both in Slalom
18 world cup career podiums
Awarded MNZM for services to Sport